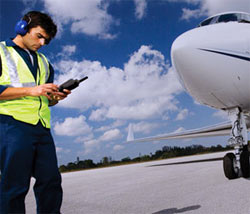 Motorola's popular professional radio series is an excellent and reliable way of keeping the team in contact.
Streamlining operations with radio communication increases productivity and can form part of an organisation's health and safety system, which is particularly important for individuals who work alone, or remote from the team.

Analog: Analog 2-way radios are still in demand, due to their rugged qualities and great functionality.

Digital: The current trend shows a switch towards the more modern digital technology (DMR), as found in the market leading MOTOTRBO line of radios from Motorola. This switch can be made almost seamlessly, as MOTOTRBO products in general are backwards compatible with analog equipment.

TETRA: The ultimaste technology withing digital communication is found in Motorola's TETRA products. Motorola meets or exceeds the TETRA standards in the full range of mission critical communication equipment.